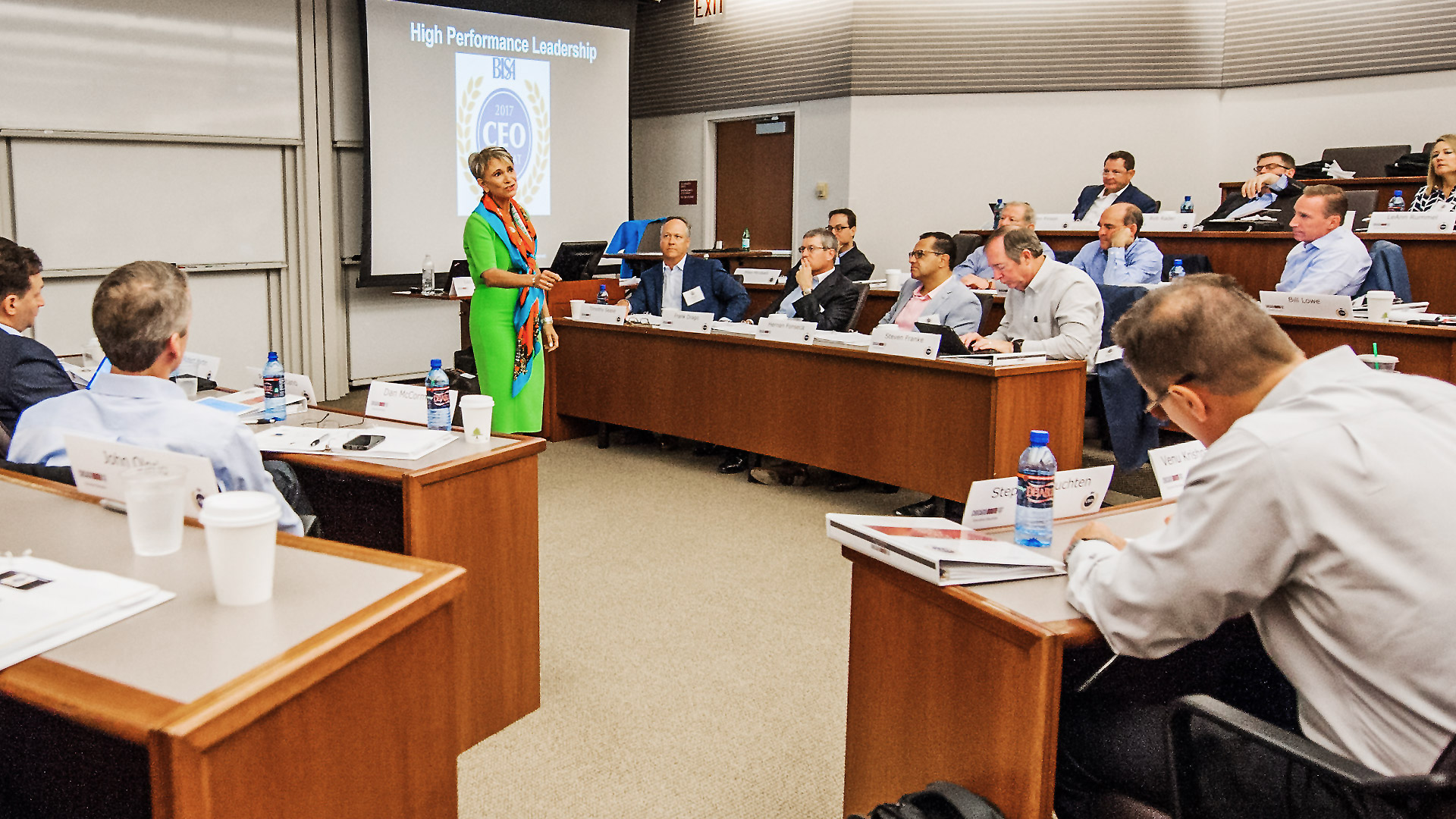 Executive Educational Experiences
Data-driven, research-based, customized learning experiences
Strengthen your leaders, strengthen your organization.
The need for leadership development has never been stronger. Prompted by global uncertainties, ever-increasing shareholder demands and intense competition, today's companies understand that developing the individuals who can lead them to sustained high performance is critical for success.
The Center for High Performance offers customized, one- to five-day courses focused on increasing business unit performance by developing a higher-performance environment.
Our program courses include:
Leading a High-Performance Senior Team
The colossal business failures of the past demonstrate that emotion-based, reactive decisions have a direct and dangerous impact on an organization's long-term performance.
Proactive, fact-based decisions, on the other hand, often lead to sustainable high performance. Based on CfHP's global, proprietary research, this course focuses on how leaders can learn to model proactive behaviors such as confronting harsh realities, leveraging the talents of individuals and the team, adapting quickly to change, and finding opportunities in challenging times. When leaders model these behaviors they are more likely to make decisions that balance long- and short-term performance.
Participants will learn to:
Encourage an environment that drives high performance
Understand the killers of high performance and how to avoid them
Apply the principles of respectful communication
Make more proactive, fact-based decisions as a team
Develop a framework for avoiding individual decision traps and improving team decisions
Leverage the natural talents as well as the functional expertise of each team member
Listen to the contrarian voice
Identify, replicate and nurture high-performance behaviors throughout the organization
Utilize a six-step collaboration model to encourage the flow of ideas and solve complex problems
Apply the lessons of high-performing senior teams in their own companies
Leveraging Your Personal Leadership Brand
This program provides practical strategies and tools executives can use to manage their own personal leadership brand and utilize it to communicate effectively with a range of stakeholders. It focuses on the need to be proactive, rather than reactive, in getting messages across to employees, customers, suppliers, investors, the media and others – in good times and bad.
This leadership course can also be customized for companies in which leaders are expected to be an extension of the corporate brand by mirroring the brand promise through their actions and words.
Participants will learn to:
Recognize their personal leadership brand assets and increase their value
Develop their personal brand messages and deliver them to key stakeholders
Avoid pitfalls that may contribute to costly mistakes, overruns and "do-overs"
Deal with the media more effectively
Identify how a personal leadership brand can positively or negatively affect the company's brand
Straight Talk in Tough Times: How Effective Leaders Communicate
This leadership development program provides practical strategies and tools to communicate tough messages in difficult times. Never before has the need to communicate key messages to a variety of stakeholders been more imperative. The ability of senior leaders to communicate effectively – and often – has become absolutely essential to company success today.
Participants discover the importance of being proactive, rather than reactive, in getting messages across to key audiences in the best and worst of circumstances.
Whether they are seeking to thrive in good times or simply to survive in rough waters, organizational leaders will learn how to:
Recognize the value of authentic leadership
Understand the relationship between leadership and "follower-ship"
Assess their current communication style
Recognize how personal communication style positively (or negatively) impacts effective message delivery
Deliver communication messages to key stakeholders
Proactively communicate in unexpected or difficult situations
Deal with the media more effectively
Figure out when and how to apologize
Deliver bad news
Custom Workshops and Speeches
In our highly customized workshops, our thought leaders share the results of our global research on high performance in the context of your own organization's situation and needs. These experiences offer an incredible opportunity for you to not only access powerful research results, but to put them into action to help you achieve your organization's goals.
We can also tailor speeches and workshop topics to address leadership, high-performance teams, business strategy, and innovation.